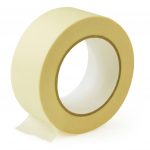 Low Tack Masking Tape
Pressure sensitive low tack masking tape is easy to tear and remove, a must for any sign makers tool box.
Our masking tape is ideal for holding vinyls in place for positioning before application, with excellent resistance to water and solvents, it's suitable for outdoor use and decorating too.
We offer tapes in 25mm, 48mm and 76mm widths.
Will stay in place up to 14 days in sunlight.
Easy, clean removal, mostly used for drafting out areas for crafts, automotive work and home interiors.
Low tack masking tape is specifically designed for use on delicate surfaces, such as freshly painted or plastered walls, wallpaper, treated wood and emulsion paint.
Looking for different tapes ? Check here for other products we sell: Channel & Banner Tapes