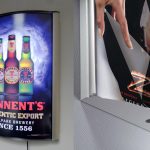 D-Light Poster Boxes
D-Light poster boxes are single sided with a convex face and suitable for a range of poster sizes.
Internally lit with flourescent tube lighting each box contains an anti-glare PET poster cover to ensure clarity of message. All D-Light boxes are complete with a 2m cable and plug and key holes to rear for ease of installation.
Sizes available are A1, A2, A3 with sizes A0, 20″ x 30″ and 30″ x 40″ made to order.
Ideal for Posters, Way Finding Signage, Directional Signage, Menus and Advertising.
Attractive convex lightbox for a range of poster sizes
No Assembley Required
Single-sided display for internal wall mounting
Aluminium snapframe sides for quick and easy poster change, change your poster in seconds!
Silver anodised aluminium case with 3mm opal acrylic diffuser panel
Tube lighting (single or double depending on size)
Key holes to rear for ease of installation
Anti-glare PET poster cover ensures clarity of message
Supplied complete with 2m cable and plug
CE certificate supplied with each unit
Looking for something different ? Try our other illuminated products here: Edgelit XT Cases